Geocaching
Geocaching was something I discovered after buying a Garmin Etrex Summit GPS. I'm now using the Garmin GPS for mobile APRS purposes as well as geocaching.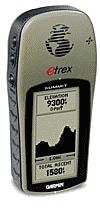 Geocaching is looking for a treasure based on GPS coordinates and solving puzzles and answering questions. It's like a treasure hunt. It is outdoor fun based on a GPS receiver and indoor fun based on the Internet. You look on the Internet for a cache that you want to search. You print the page, take a GPS receiver, go to the right starting coordinates and start looking for the cache. There are more than 60.000 caches in more than 180 countries. So even on your holiday you can have fun geocaching. Many other hams also like geocaching which is not strange considering it involves a (GPS) receiver and it somewhat resembles fox hunting and direction finding.
Here are some great sites about Geocaching:
Dutch geocaching starting page
International geocaching starting page
Dutch geocaching links collection
But there are many more out there. Try it sometime and maybe you get hooked as well. Have fun geocaching.