Malta 2001
In September 2001 we (together with XYL) visited Malta. When we were at HAM radio earlier that year in Friedrichshafen I met Frits (PA0BEA / 9H3IE), who together with Wim(PA3BIZ / 9H3ON) organises a yearly visit with Dutch Hams to Malta. We spoke about Malta and he offered to arrange my Maltese callsign which would later turn out to be 9H3BM. He made us promise to visit them on Malta which was possible because our holidays partly overlapped. When leaving for Malta my official licence document was still underway from Malta to Frits (PA0BEA / 9H3IE). After he got it he gave it to Wim (PA3BIZ / 9H3ON) who was the first to arrive on Malta and he delivered it to my hotel. Needless to say I'm greatfull for all the help I got from those two hams.
We stayed at the ham friendly hotel Preluna Hotel & Towers located in Sliema. Later we discovered that we were not the first ham to visit this hotel.
First time on the air using a dipole (2 X 5 metres) from inside my hotel room. I could only work one station because of bad SWR, his callsign 9H1TA (Ivan). Amazingly Ivan works at the Preluna hotel so we met the next day!!!
After asking the general manager's permission I worked from the sunroof where it was easier to put up my dipole and it was 8 stories up in the air. I worked like this 3 times about 1,5 hour each time. I made a total of 250 QSO's with all of Europe and even Japan, Thailand and South Africa.
On a sunday morning Ivan (9H1TA) picked us up in his car and took us to Attard. Here we visited the Maltese Amateur Radio League (M.A.R.L.) headquarters. We met many Hams from Malta as well as two Bulgarian hams (LZ4CB / Bobby and LZ2GTR / George). One of them made a picture of us which he later e-mailed to my home.



I took some 3,5 kg QSL cards with me to save them some money. All of the cards were for Dutch amateur stations and were ready to be shipped of to Arnhem.
After the M.A.R.L headquarters visit we drove to Qawra where Frits and Wim, together with more Dutch hams, were staying. They showed us their beams on the roof



and their shack inside the hotel.
We had a great time visiting them in Qawra / Bugibba.
All and all we stayed 2 weeks on Malta and we liked every minute of it! It's a great (is)land to visit especially when you're a ham.
I would especially like to thank Frits (PA0BEA / 9H3IE) and Wim (PA3BIZ / 9H3ON) for getting me my licence and callsign. Last but not least we would like to thank Ivan (9H1TA) for making this (ham) holiday special!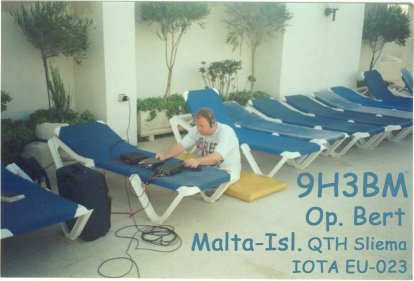 The 9H3BM card I made and shipped about a week after getting back.
Mail

PA5BM